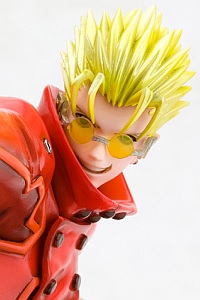 KOTOBUKIYA Gekijoban TRIGUN Badlands Rumble ARTFX J Vash The Stampede Renewal Package Ver. 1/8 Plastic Figure
劇場版 TRIGUN Badlands Rumble ARTFX J ヴァッシュ・ザ・スタンピード リニューアルパッケージver. 1/8 プラスチックフィギュア
Release Date: May 2024 (4th Production Run)
MSRP: 15000円 / USD $102.02 / EUR $94.21 / AUD $154.06 / CAD $138.15 (more info)
Vash in his famous bright red outfit, guns drawn, ready for a shootout! Comes with removable glasses, plus a black cat!

Note:
First production run: January 2013.
Second production run: October 2015.
Third production run: March 2019, comes with new packaging.
A special "Vash the Stampede -The Gunman in Black-" edition is available exclusively at Wonder Festival 2013 Summer and through KOTOBUKIYA stores.
Related Items (Total: 177)