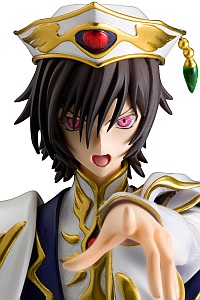 MegaHouse Precious G.E.M. Series Code Geass Lelouch of the Rebellion Lelouch V. Britannia PVC Figure
Precious G.E.M.シリーズ コードギアス 反逆のルルーシュ ルルーシュ・ヴィ・ブリタニア PVC フィギュア
Release Date: April 2023 (3rd Production Run)
MSRP: 17000円 / USD $129.82 / EUR $119.35 / AUD $193.57 / CAD $177.48 (more info)
Lelouch in his emperor outfit!

Note:
First production run: December 2011.
Second production run: June 2017, exclusively through MegaTrea Shop, Premium Bandai, Animate Online Shop and Animate.
Third production run exclusively through Premium Bandai, AmiAmi, Animate and Digitamin.
First and second production runs released under "G.E.M. Series Code Geass Lelouch of the Rebellion R2".
Related Items (Total: 188)