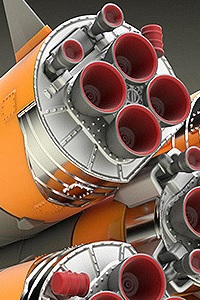 GOOD SMILE COMPANY (GSC) MODEROID Soyuz Rocket & Transport Train 1/150 Plastic Kit
MODEROID ソユーズロケット+搬送列車 1/150 プラスチックキット
Release Date: December 2021 (3rd Production Run)
MSRP: 5370円 / USD $37.09 / EUR $38.61 / AUD $57.53 / CAD $50.91 (more info)
The Russian space program workhorse, the Soyuz! Comes with the full rocket booster set plus the transport train.

Note:
Some assembly and paintings required.
100% made in Japan for all production runs.
First production run: May 2018.
Second production run: March 2021.
Added to MODEROID lineup starting with third production run.
Related Items (Total: 134)